It is the most important day of your life, and you want to look your best. We have compiled a list of wedding hairstyles with bridal veils that will make you feel confident on the big day. These are stylish, and easy-to-do looks for any bride, no matter what her hair type!
You may be wondering how to choose a hairstyle with a veil for your wedding?
Today's article will share our favorite styles from celebrities who wore them beautifully on their big days. From glamorous updos to romantic waves, there's something in here for everyone.
Different wedding hairstyles with veil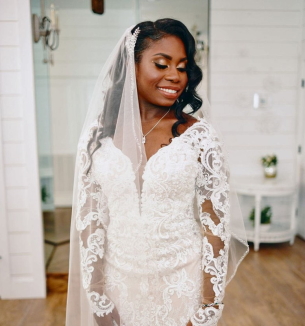 We want to help you find the perfect hairstyle for your wedding day. However, with so many different styles and lengths, it cannot be easy to decide.
Do you want to look your best on your wedding day? A fabulous hairstyle with a stunning veil is sure to make you feel like the most beautiful bride ever! Here are some elegant and stylish hairstyles with veils that will be perfect for your special day.
The Bun Updo: This style features long bridal hair pulled into a tight bun at the back of the head or on top of the head, then covered by a veil. It's perfect for women with thick, medium-length, or longer locks because it keeps everything in place while still looking sleek and chic.
-T op Knot: The top knot requires shorter hair, but if you have short tresses, this hairdo can work wonders on your hair.
Short Hair: If your hair is short, we recommend wearing it down in loose curls or braids pinned back with a crystal headband or tiara.
A wedding is a time for celebration, but it also signals the start of many changes in your life. You are about to take on new responsibilities as a wife and partner, so don't let your hairstyle get overlooked! From elegant updos to romantic braids, there are all kinds of hairstyles that will work well with your veil. Take a look at these seven gorgeous hairstyles that you can do yourself or ask someone else to help you out. The sky's the limit when it comes to creativity!
Wear a veil with hair down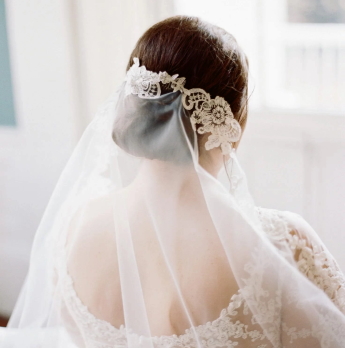 The veil is a beautiful accessory that has many meanings. It can be worn with hair down or up, and it's important to wear one that suits your personality. A headscarf may not always be the best option for you; you should consider what type of veil will make you feel most confident when wearing it. The beauty of these pieces lies in their versatility, so remember to style them in ways that reflect who you are.
Wearing your hair down is a popular look for women. But, if you're wearing a veil with an updo, it can be difficult to wear your hair down without messing up your hairstyle. So here are some tips on how to wear your hair so that you don't have to sacrifice the style of the veil or the style of the updo.
Part your hair at least 1 inch away from where it will sit under the veil and use bobby pins to secure it out of sight from underneath. This way, when you pull back your veil, all of your lovely locks will be revealed!
If you want something with more volume around the face, put curls in the front and let them fall forward, so they cover most of the face.